Partial thickness rupture of plantar fascia
Complete or partial rupture of plantar aponeurosis is usually caused by forceful plantar flexion in athletes. It can also occur with repetitive stress. Spontaneous rupture is seen in patients with prior plantar fasciitis, especially in those treated with local steroid injection.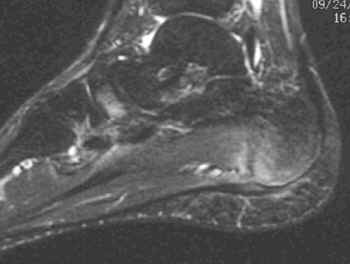 MR imaging shows localized thickening of plantar fascia with abnormal intrafascial intermediate to high signal intensity on T1W and T2W images. Interuption of some fibers of plantar fascia and edema of the surrounding soft tissues can also be seen.