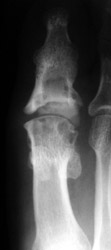 SILASTIC ARTHROPATHY is due to foreign body reaction to silicone particles.
1. Distribution:
In the foot, the 1st metatarsophalangeal joint is the joint most commonly involved, as it is the joint most commonly replaced.
2. Erosion pattern: The most common finding is the presence of erosion and osteolysis of bone adjacent to the implant.
3. Differential diagnosis:
The presence of a silastic implant is a clue to the correct diagnosis.
Arthritides of the Foot

Silastic Arthropathy