Lipohemarthrosis of the shoulder was first described in 1962. Hemarthrosis or lipohemarthrosis of the glenohumeral joint may occur secondary to fractures of the humeral head or neck or, more rarely, the glenoid.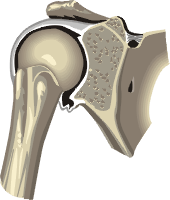 Pseudosubluxation of the shoulder refers to inferior displacement of the humeral head relative to the glenoid by fluid in the joint cavity, either hemarthrosis or lipohemarthrosis. This is not a true dislocation.
Radiographically, lipohemarthrosis of the shoulder joint is seen only on upright views of the shoulder. Supine views do not elicit this sign because the x-ray beam must be parallel to the fat and fluid to be visualized.
CASE 1: A 54 year old female was involved in a severe motor vehicle collision.
Image 1: The radiograph demonstrates a fracture of the humeral neck with a crescent shaped low density region representing fat layering above blood within the joint space. The humeral head is inferiorly displaced (but not dislocated) due to distension of the joint. CLICK TO ENLARGE.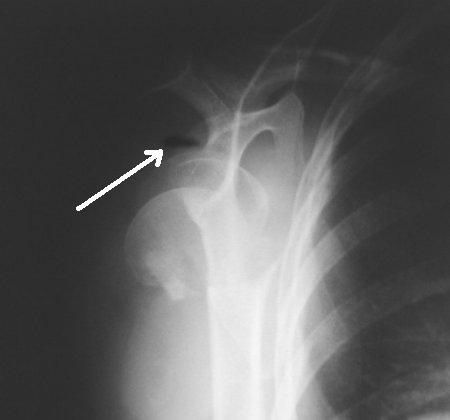 Images 2 and 3: CT examination at the level of the glenoid and presented in soft tissue and bone window technique. The lipohemarthrosis of the glenohumeral joint is identified as a globular focus of fat layering upon a small amount of blood. CLICK TO ENLARGE.
| | |
| --- | --- |
| | University of Colorado Visible Human Male database: glenohumeral joint [notice the bone marrow fat adjacent to the joint] |
| | Wheeless' Online Orthopedics: discussion of anterior shoulder dislocations |
| | Wheeless' Online Orthopedics: discussion of posterior shoulder dislocations |
| | |
| | |
| | |