Neuropathic osteoarthropathy usually occurs in patients with long standing diabetes. Patients may present with a hot, swollen, erythematous foot, clinically mimicking advanced infection. Less than 1% of diabetics will develop neuropathic osteoathropathy, however bilaterality is present in 20% of patients who do. Repetitive trauma in the setting of sensory impairment can lead to rapid destructive change.
In the acute and subacute settings, MR imaging features mimic those of osteomyelitis with increased bone marrow signal on T2 and STIR sequences. Secondary signs of osteomyelitis should be searched for on both conventional radiographs and MR images. These include the following:
Ulcer formation at new pressure points. The medial aspect of the navicular bone and the inferior aspect of the cuboid bone frequently become new areas of pressure as the foot collapses. Inappropriate fitting shoes will wear at these areas and cause skin breakdown.
Sinus tract formation may extend from the ulcer deep into the soft tissues.
Focal bone destruction adjacent to ulcers and sinus tracts.
Large joint fluid collections. MR imaging helps to localize larger fluid collections which can then be aspirated for laboratory analysis.
In the chronic setting, decreased bone marrow signal is present on all MR sequences, consistent with osteosclerosis seen on conventional radiographs. Well marginated cyst-like lesions in the bones may also be present. [Marcus CD, et al] These findings help to exclude osteomyelitis.
| | | |
| --- | --- | --- |
| A | B | 60-year-old woman with long standing diabetes. AP and lateral radiographs demonstrate neuropathic hind and mid foot deformities with collapse of the plantar arch. On the lateral film, the cuboid bone is dislocated inferiorly. The altered weight bearing has resulted in overlying ulcer formation. There is subtle destructive change of the cuboid consistent with osteomyelitis. |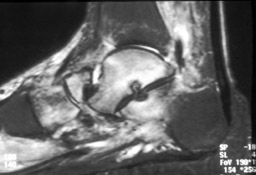 58-year-old man with long standing diabetes. Sagittal STIR image demonstrates neuropathic change of the midfoot with alignment abnormality of the talar-navicular articulation and marked bone marrow edema. There is minimal joint fluid. The marrow signal change was secondary to neuropathic disease.


| | | |
| --- | --- | --- |
| A | B | 59-year-old woman with long standing diabetes. The patient continued to wear conventional footwear, and subsequently developed ulceration of the medial midfoot, where the shoe was tightest. A. The AP radiograph demonstrates ulcer with underlying destructive change of the medial aspect of the navicular bone, consistent with osteomyelitis. B. Coronal T1 weighted image with fat saturation post intravenous gadolinium enhancement demonstrates medial ulcer with large sinus tract extending to the hindfoot articulation. |
(Click on the images to see larger versions)