APPROACH TO IMAGING
The initial diagnostic imaging work up should include high quality conventional radiographs. These films are used not only to evaluate for osteomyelitis, but also to search for foreign bodies and soft tissue gas. They also clearly demonstrate bony variants such as accessory ossicles, foot deformities, congenitally fused phalanges, remote fracture deformities, prior surgical procedures and amputations, all of which may be confusing on MR imaging.
When conventional radiographs are diagnostic for osteomyelitis, MR imaging may still be needed to clearly demonstrate the extent of infection in the bone and to see if other neighboring bones are involved. This is especially important if surgical amputation is planned. Staging of the extent of osteomyelitis is vital to surgical planning since surgeons are unable to distinguish infected from non infected bone in the operating room. In a series of patients followed for up to 6 months, Morrison et al reported no recurrent infection at surgical margin in 100% of feet treated with limited surgical resection planned with staging MR imaging examination.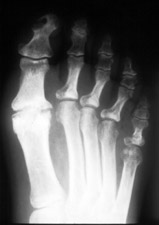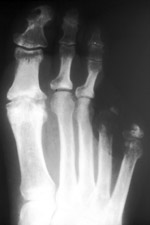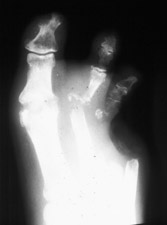 Sequential PA films of a 70 year old woman with diabetes over one year period of time. She had multiple amputations without a staging MRI. The full extent of osteomyelitis was never fully resected.
Imaging modalities available for evaluation of foot infection include: