All patients who undergo any type of foot amputation procedure should get post operative conventional radiographs as a base line study. This will be useful in the future to determine if residual osteomyelitis and subsequent progressive bony destructive change is present.
Post operative radiographs are evaluated for soft tissue stump coverage and amputation margins. Amputation edges of bones should be well defined and smooth. Jagged edges increase risk for soft tissue stump breakdown.
MR imaging of the amputated foot are useful in the evaluation of the residual or recurrent osteomyelitis, as well as soft tissue abnormalities such as seromas and abscesses.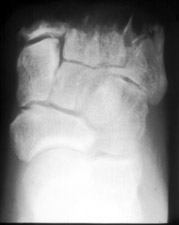 72-year-old man with diabetes, status post forefoot amputation. PA radiograph demonstrates pointed shards of bone projecting into the soft tissue stump, placing the patient at risk for overlying skin breakdown. (Click on the image to see a larger version)
64-year-old woman with diabetes. Sequential PA radiographs demonstrate progressive osteomyelitis of the first and second rays. The initial radiograph was obtained after amputation of the first toe. The second radiograph was obtained 8 months and demonstrates progressive destructive osteomyelitis involving the 1st metatarsal stump and the sesamoids. There is also septic arthritis of the 2nd MTP joint with osteomyelitis of the 2nd metatarsal head and 2nd proximal phalange. Sagital STIR image of the 1st ray demonstrates an abscess in the stump soft tissues, as well as osteomyelitis of the stump edge and sesamoid bone. (Click on the images to see larger versions)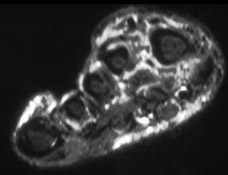 64-year-old man with diabetes and remote soft
tissue infection debrided surgically. The follow-up short axis STIR image
demonstrates extent of soft tissue resection. The underlying metatarsal
bones are normal without osteomyelitis. (Click on the image to see a larger version)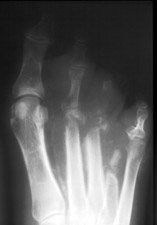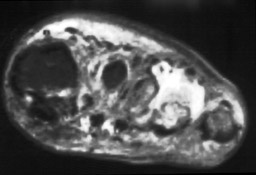 40-year-old man with diabetes. He had amputation of the 4th ray 5 months ago. The current radiograph demonstrates post operative change as well as extensive multifocal osteomyelitis of the forefoot. Short axis STIR image demonstrates osteomyelitis as well as abscess formation. (Click on the images to see larger versions)