ULCERS AND OSTEOMYELITIS
The vast majority of osteomyelitis in diabetic patients occurs directly adjacent to soft tissue ulcers. [Bamberger DM, et al]
If an ulcer is not present, osteomyelitis is unlikely.
Ulcers > 2 cm2 have a 56% sensitivity and a 92% specificity for diagnosing osteomyelitis [Newman LG et al].
Deeper ulcers are significantly more likely to overlie osteomyelitis than shallow ulcers (82% vs. 33%) [Newman et al]
Therefore, ulcer location, size, and depth need to be assessed as well as the underlying bone scrutinized.
Foot ulcers in diabetic patients occur in highly characteristic locations. The distribution of these ulcers corresponds closely to the distribution of osteomyelitis.
| | |
| --- | --- |
| | Plantar to the 1st -3rd metatarsal heads |
| | Plantar and medial to 1st toe |
| | Plantar and lateral to 5th toe |
| | Calcaneal tuberosity |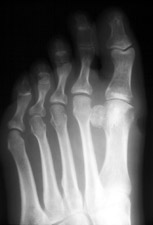 50-year-old woman with diabetes. Note ulcer of medial forefoot with adjacent, underlying osteomyelitis of the 1st metatarsal head. (Click on the image to see a larger version)