Plexiform Fibrohistiocytic Tumor
Recently described as a low-grade neoplasm. Usually presenting as a slow growing, small (1-3cm) ill-defined mass of deep dermis and subcutaneous tissue. Exclusively seen in young adults and children.
63% are commonly seen in the upper extremity. 14 % percent are present in the lower extremity. Tumor is made of fibroblastic component and round cell histiocytic component with multinucleated giant cells.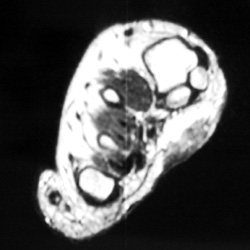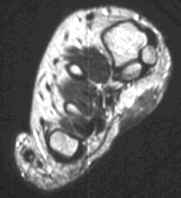 15 years old female with history of slowly growing mass at the plantar aspect of the right foot. T1 and T2 W images demonstrates intermediate signal intensity